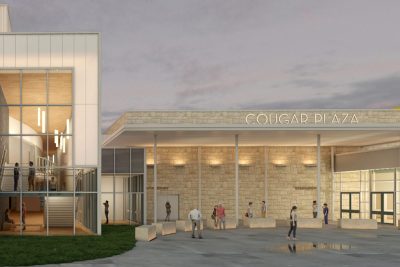 Jarrell ISD Graduation Ceremony
Jarrell ISD is a 4A public school district that covers 84 square miles in the heart of central Texas, north of Austin, south of Waco, and east of Killeen on the 1-35 corridor. Our district boundaries include the City of Jarrell, Sonterra, and even parts of Sun City and the City of Georgetown. The district currently has more than 2,300 students enrolled across four campuses.
More and more families are choosing Jarrell ISD to make Cougar Nation their home. Since August 2021, Jarrell ISD has grown 11 percent, adding over 260 students.
Jarrell ISD currently has four campuses:
Igo Elementary (Pre-K – 5th)
Jarrell Elementary (Pre-K – 5th)
Jarrell Middle School (6-8th)
Jarrell High School (9-12th)
Elementary #3, approved in the 2021 Bond, is scheduled to open in the fall of 2023. As of July 2021, its location has not been announced.
The Board of Trustees, administration, faculty, and staff are focused on "success for all."
We are proud to share the following achievements from 2020-21 school year.
District Achievements and Celebrations
During the 2020-21 school year, Jarrell ISD, Jarrell Elementary, Igo Elementary, Jarrell Middle School, and Jarrell High School earned the distinction of being named "No Place for Hate" by the Anti-defamation League
The Jarrell Education Foundation presented its first-ever innovative classroom grants to 18 staff members, totaling more than $19,000
Since November of 2020, JISD has saved taxpayers $4.7 million through the refinancing of bonds
The City of Jarrell and the Jarrell Police Department have generously donated $45,000 worth of radios to enhance the district's communication with local first responders.
The district is partnering with the Texas A&M College of Nursing and Bluebonnet Community Services to establish a Family Health Center at Jarrell ISD. The clinic is scheduled to open in the fall of 2021.
Jarrell ISD launched Paint Jarrell Blue – an initiative designed to celebrate students, staff, parents, and community members.
2020-21 Employees of the Year: Kadie Tibbets; Michelle West; Brad Louder; Tara Granberry; Kelly Henrickson; Audrey Zuniga; Sandi Dotson; and Charli Gick
The Jarrell ISD Instructional Coaching Program was featured in the Texas Association of Community Schools magazine. The article addresses how the district's instructional coaches support teachers, develop curriculum, analyze data, facilitate instructional practices and more!
Jarrell High School
The Jarrell High School band earned their sixth consecutive Sweepstakes
Jarrell ISD is home to the 2021 state champions in the Long Jump – DJ Warren; and 300 MH – Joseph Shamburger
On May 27, 119 students graduated in-person, in the presence of their friends and family, at Cougar Stadium
Jarrell High School made history when the One-Act-Play advanced all the way to regionals
JHS freshman Jasmine Benavidez placed 29 at the state cross country meet
Three Jarrell High School band students qualified for the State Solo and Ensemble, and two students, Elizabeth Lind and Anthony Alvarado.
The Lady Cougar Basketball team earned a trip to the playoffs for the 11th year received first division ratings!
JHS sent 3 powerlifters to the state powerlifting meet
JHS sent 3 FFCLA students to the state event
Staff helped students navigate financial aid and scholarship applications, resulting in the class of 2021 receiving more than $675,300 in funds for college
Jarrell Middle School
The JMS Soccer Team won the district championship
The $113,370,00 2021 Bond Election was overwhelmingly approved by voters. Prop A passed with 72.93% and Prop B passed with 63.78%.
The Jarrell Middle School band programs earned its fifth consecutive year of First Divisions
Jarrell Elementary and Igo Elementary
Jarrell Elementary and Igo Elementary held STEAM Days and found new ways to bring learning to life.
The district will offer a two-way dual language bilingual program at Jarrell Elementary and Igo Elementary in the fall of 2021
This year, Jarrell Elementary and Igo Elementary implemented the One Book, One School program and got our entire school community excited about reading