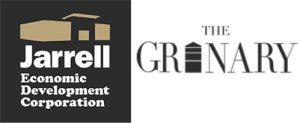 For Immediate Release
July 7, 2021
Jarrell EDC Provides Type B Grant for The Granary
Jarrell, Texas first outdoor BBQ/Bar, Food Court and Entertainment Destination receives $25,000 Grant.
Jarrell— July 2, 2021 — At the Thursday, July 1, 2021 Jarrell Economic Development Corporation meeting, the Board of Directors unanimously approved a Type B Business Retention and Expansion grant for $25,000 for local, home-grown food, live entertainment, event and tourism venue, The Granary.  Located at 110 West Ave. L, Jarrell, TX 76537, The Granary will use the grant for property improvements including a large grain silo top back-lit sign with The Granary, Jarrell, Texas prominently displayed. A permanent shade structure will also be part of the property improvements to allow for more comfortable outdoor seating for area locals and tourists. Owners and partners, Scott and Misty Murrah and Lynn and Cari Springfield stated, "This grant will allow The Granary to purchase a beautiful,  professional, lighted sign, which will provide substantial visibility from Interstate 35, encouraging out-of-towners to stop and explore Jarrell."
Jarrell Economic Development Board President, Wayne Cavalier added, " The Jarrell EDC is excited with the opportunity to help this local business promote the awesome vitality of Jarrell. Local businesses are what make this area special. We are pleased to help further cement this relationship and look forward to the glowing future of Jarrell."
Food options include:
BBQ at the Granary
The Bar at the Granary
Social Grounds – a Food Truck with locally roasted Apothecary coffee
Curb – a Food Truck with delicious specialty sandwiches
PopPop's Southern Fixin's – a Food Truck featuring Southern cooking with a Cajun flair.
Lao Mec-Kitchen – authentic Lao and Mexican food – COMING SOON.
Bar options include:
Beer on tap
Variety of craft and domestic beer
Ciders
Wine
Margaritas
Mixed drinks
Soft drinks
Meads & Spirits – COMING SOON
Entertainment: check website https://thegranarytx.com/live-music
Nightly – live bands
Karaoke nights
Events: check website https://thegranarytx.com/upcoming-events
Hours:
Thursday: 11:00am-2:00pm & 5:00pm-9:00pm
Friday: 11:00am-10:00pm
Saturday: 11:00am-10:00pm
Sunday: 11:00am-9:00pm
About JEDC
JEDC is a Type A Corporation and is authorized to do Type B activities through state law. .25% out of the 2% city sales tax goes to support the corporation and as a potential incentive source for incoming projects and community development. All projects considering Jarrell will be individually vetted for a custom incentive package including potential tax abatements so a true partnership can be formed to benefit both the business and the community. Criteria for consideration will include the number of jobs created, average wage of those jobs, capital investment, amount of new taxes generated and project sustainability.
For more information, press only:
Mary Poche'
512-746-4593
512-947-6922 (cell)
m.poche@cityofjarrell.com