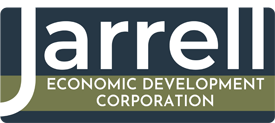 For Immediate Release
Feb 2, 2021
Workforce is readily available in Jarrell.
Currently, there are 18 mega-developments in the works within an hour of our City.
Jarrell— February 2, 2021 — The city of Jarrell is ideally located in central Texas on Interstate 35; the link in the North American Free Trade Agreement (NAFTA) from Canada to Mexico.  Our strategic location provides numerous benefits including:
A brief 38-mile commute from Austin to the north
Jarrell resides within 3.5 hours from the most significant consumer and manufacturing bases in Texas which include San Antonio, (120 miles); Dallas/Fort Worth, (154 miles); and Houston, (185 miles) commonly known as the Texas Triangle.
Jarrell is located in Williamson County, which is the 12th fastest growing county in the U.S.
Currently, there are 18 mega-developments in the works within an hour of our City. These include:

The recently announced Samsung semiconductor manufacturing facility in Taylor
Apple, Amazon, two big mixed-use projects
Northline, Cedar Park Convention Center
Switch Inc.
CelLink Shop LC
Leander Springs
Gangshan Cutlery Company HQ
Bell District
Wolf Lakes Village
GTX Logistics Park
Volcon Inc.
Perfect Game USA.
Workforce is readily available in Jarrell and our population is on the grow. For 2020, it was ranked number 1 for having the most housing starts with 721, located primarily in the Sonterra development with an average price range of $176,000 to $271,000. At the end of 2021, approximately 19,000 planned residential lots reside within the Jarrell planning area.
About JEDC
JEDC is a Type A Corporation and is authorized to do Type B activities through state law. .25% out of the 2% city sales tax goes to support the corporation and as a potential incentive source for incoming projects and community development. All projects considering Jarrell will be individually vetted for a custom incentive package including potential tax abatements so a true partnership can be formed to benefit both the business and the community. Criteria for consideration will include the number of jobs created, average wage of those jobs, capital investment, amount of new taxes generated and project sustainability.
For more information, press only:
Mary Poche'
512-746-4593
512-947-6922 (cell)
m.poche@cityofjarrell.com